Katriel Holloway – President / Chief Executive Officer
Jay Holloway – Vice President / Chief Media Strategist
The Holloway Media Group LLC is a minority-owned, full-service media and training consulting company based in the Washington, DC metro area serving international, federal, and direct clients.  For more than 20 years, staff members have provided solutions that helped government agencies, corporations, small businesses, educational institutions, and nonprofit organizations improve their performance and establish a reliable connection with audiences.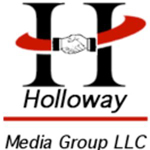 Our Core Competencies fall under the following categories: marketing, advertising, production and training.  Holloway Media Group's Core Skill is the development of knowledge transfer solutions ("good ideas"); then, we translate research into media content that is relevant and meaningful to target audiences.
We offer innovative solutions to help clients meet their marketing, production, and professional development needs. Limited budgets and time, have necessitated that leaders identify non-conventional ways to improve their performance, train their staff, build high performing teams and achieve the desired outcome of their organization. HMG Consultants are experienced and certified professionals.  Our 20-year track record has helped businesses reach their goals; as well as governments and nonprofits achieve their missions!
We offer a wide range of services and we are able to handle every facet of planning and implementing either a marketing and advertising campaign or a learning and development program, leaving business owners to concentrate on running and growing the company, and governments and nonprofits to serve the public and their target communities.
Our team member's gifts and talents synergize to provide these services with a combined 80 years of media, learning, development, and technology experience. We serve clients in the Education, Healthcare, Pharmaceutical, Federal, State and Local Government, Faith Community, Legal, Communications, and Media industries. We believe that winning strategies and sound implementation produce success. Our clients rely on our holistic approach to solving their problems in alignment with their organizational goals.
We are dedicated to serve our clients with Core Values and a Code of Ethics consistent with those of the Christian Business Association: Love, Servanthood, Integrity, Timing, Stewardship, Leadership, Innovation, Excellence, Accountability, and Citizenship.
What Makes Us Different?
We conduct qualitative and quantitative market research, produce compelling and creative content, and provide relevant and meaningful solutions that meet your audience needs.
We developed and utilize a proven HMG 8-Step Process™ for our marketing, training, and consulting clients that include: Research, Challenge, Strategy, Plan, Budget, Implementation, Measurement, and Optimization. This means that we can offer a wide variety of strategic, effective, and sustained solutions at a competitive cost.
We offer EMMY™ nominated creative services — this ensures our clients' materials stand out from the competition and compel audiences to stay engaged!